Janet Killian, President, Gemini Janitorial Services, is the 2014 Entrepreneurial Woman of the Year.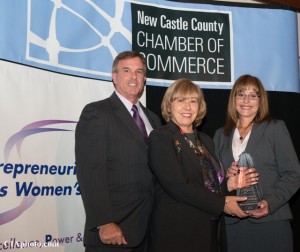 New Castle County Chamber President Mark Kleinschmidt, 2013 Entrepreneurial Woman of the Year Connie Charles and 2014 Entrepreneurial Woman of the Year Janet Killian.
The prestigious award was presented at the 24th Annual Entrepreneurial Women's Expo on Thursday, November 13, 2014 at Clayton Hall. Award criteria:
Has owned and operated a business for at least five years, owns 51 percent or more of a business headquartered in Delaware and employs at least five individuals.
The event is hosted by the New Castle County Chamber of Commerce. For more information, visit www.ncccc.com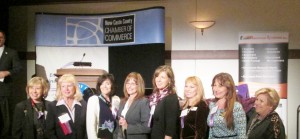 Janet joins a list of accomplished, successful entrepreneurs who have received the award:
2013 – Connie Charles, Strategic Solutions International
2012 – Diane Ferry, Star-Med
2011 – Donna O'Dell- Hoke, Unique Impressions
2010 – Carla Vicario, Ben-Dom Printing
2009 – Stephania Panza, Soffritto Italian Grill
2008 – Lynn Nathan-Samick, Powersports East, Inc.
2007 – Barbara Hines, SSD Technology Partners, Inc.
2006 – Julie Eble, Critical Path Services
2005 – Ellen Barrosse, Synchrogenix
2004 – Catherine Hopkins-Grieco, Hopkins & Sons, Inc.
2003 – Carolyn DuPont Prickett, Summit Aviation
2002 – Pat Creedon, Creedon Controls Electrical Contractors
2001 – Sally Hawkins, 1450 WILM Newsradio
2000 – Linda Piazza, Bayshore Transportation System
1999 – Janet Carroll, RN, Nurses N Kids, Inc.
1998 – Beverly Stewart, Back to Basics Tutoring Service
1997 – Beverly Thomes, Contract Environments, Inc.
1996 – Carolyn McKown,Corp America, Inc.
1995 – Trish England, AIA, Design Exchange Architects
1994 – Linda Drake, TCIM Services, Inc.
1993 – Nona Cunane, Guardian Companies, Inc.
Here are more photos from the 2014 New Castle County Chamber Womens' Expo:
Profile – Janet Killian
Janet Killian, President, Gemini Janitorial Services founded her commercial cleaning services company in 1984.
The Gemini Janitorial Services teams have been making offices shine for 30 years. In addition to providing janitorial services to business offices, the company also specializes in construction clean-up.
A number of area contractors depend on the Gemini team to make sure their newly constructed office is ready to make a good first impression on the new occupants.
George & Lynch, a local construction firm, was Janet's first customer and the Gemini team continues to clean their offices in 2014. Long-term relationships with dedicated customers have helped the company grow. Janet is an entrepreneur in the true sense of the word.
No matter the daily challenges, her customers know they can count on her to deliver janitorial services with care and attention to detail.
Although she comes from humble beginnings, there were nine people in her family, she worked hard and appreciated every opportunity that came her way. Early on, she had the chance to purchase another cleaning business, started hiring the best workers she could find and the rest is history.
The Gemini difference is the dedicated people who work for the company. Listening to her employees is very important to Janet. She gets to know them, their strengths and personalities. She is frequently out in the workplaces being cleaned, training and learning. With determination and a positive attitude, she worked hard to build a well-managed and profitable business.
Her advice to fellow entrepreneurs, "Get rid of all negative people in your life. Educate yourself, work hard and believe in yourself, stay strong and you will persevere." Gemini Janitorial Services is a WBENC certified 100% woman owned business. Janet is very active in the business community, recently serving as President, Wilmington Women in Business.