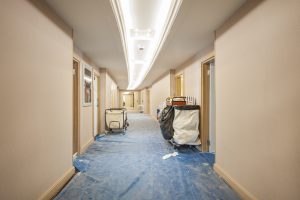 Even after all of a contractor's sweat and tears have gone into completing a project, it's not over until it's over. Meaning, of course, that even after the construction has been completed, there's still the cleanup to reckon with.
If you're not too keen on hiring a construction site clean up service, you might not yet be aware of just how much goes into actually closing up shop and cleaning the site post-construction. Here's a quick look at a typical construction site clean up checklist looks like:
General Cleanup
Clean the walls
Dust ceilings and ceiling fans
Clean trim, baseboards, window frames, and doors
Vacuum carpet
Clean and polish floors
Wipe down all windows
Clear all light fixtures and bulbs
Remove and dispose of all garbage
Entry and Exits
Sweep and clean porches
clean exterior lights and remove excess debris
Wash driveway and walkways
Clean threshold
Kitchen.Bath
Vacuum, dust, and clean shelving
Clean cabinet doors and tops of cabinets
Scrub countertops and backsplashes
Clear excess debris from around sinks and faucets
Clean all appliances inside and out
Clean toilets and mirrors
Had Enough?
These are only a few of the many tasks that need to be completed during a post-construction clean up. It can be a lot for a crew to take on after having completed the project, but it absolutely needs to be done, no matter what. And according to Home Advisor, cleaning up construction sites can cost anywhere from $150 to $950 or more.
The Solution?
The solution here is to hire professional commercial cleaning contractors to get the job done. Not only will they have the necessary resources and experience, they'll have the time and energy to clean everything that you might miss in your cleaning procedures. When you hire construction cleaning services, you're investing in a team who will be precise, thorough, and extremely efficient with their work. Even an experienced contractor may not be able to clean to the standard that a licensed commercial cleaning company would.
Whether it's a home improvement project or a large-scale commercial construction site, hiring professionals to get the real cleaning done is always a good idea. Next time you find yourself overwhelmed by construction cleaning needs, you know who to call.