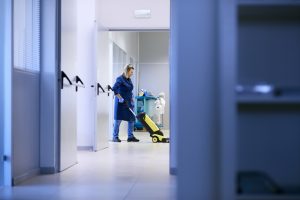 With any new build or renovation project, you want the final work to look its best. Cleaning up after a construction site is not only a good way to remove dirt and debris, it's a way to give a new space the finishing touch it needs. Here are a few of the most important reasons why you should always hire professional commercial cleaning services for post construction clean up in Delaware.
Safety
Having the proper tools and supplies is essential for cleaning up a construction site safely. The vast amount of dust that can be left behind might cause respiratory issues if not dealt with properly, as might some of the harsh chemicals used for through cleaning of carpets, hardwood, tile, and more. It's better to let expert professionals who know exactly what they're doing handle these services.
Time
If getting the tenants into the new or renovated space as quickly as possible is a priority, then hiring cleaning services will no doubt make the work go faster. Companies that have dealt with post construction clean up in Delaware before know exactly what to do, leaving no stone unturned, and leaving you with more time to deal with your own business.
Budget
It may seem counterintuitive to hire an additional service for clean up when you're working within a budget, but the combination of efficiency and thoroughness will make it worth every penny. The cost of a construction site clean up will depend on the size of the job, its location, and the materials required. That can range anywhere from $150 to $950, according to HomeAdvisor. The benefits are that you save a lot of money from the costs of buying materials and the headache of trying to reach every nook and cranny on your own.
If you're looking for a way to have your construction site look as good as new, don't hesitate to call in a professional cleaning service. Not only will it be worth your time, money, and safety, but it will show your clients just how much you care about delivering top quality service, from start to finish.