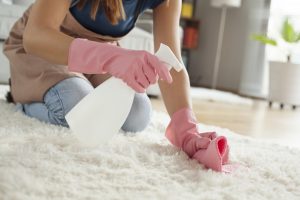 No matter what your age or living situation, homes get dirty. From the dust building up in between your knick-knack collection to the 10 million bacteria living on your desk, a routine and thorough cleaning is recommended at least once a year. Unfortunately, even our best efforts at a deep and comprehensive clean don't always measure up; when push comes to shove, only professional cleaners can get to the root of the problem and leave your home or apartment cleaner than you've ever experienced. Let's take a look at some of the reasons you should put down your dustcloth and employ professional cleaning services today.
It saves time and reduces stress. Although some people consider cleaning to be therapeutic due to its repetitiveness, most of us simply see it as another thing on the To-Do list. When you hire professional cleaners, they can show up as you're heading out the door for work and have the place looking immaculate by the time you return home; you're able to enjoy all the benefits of a squeaky-clean domicile without putting any effort into the process.
You'll see better results. Most homeowners or renters don't view cleaning as a skill, but that doesn't mean it isn't. Due to their extensive experience, professional cleaners know how to eradicate even the most difficult of stains and clean up the most frustrating of messes. In addition to having access to tools that you most likely don't possess (like a steam cleaner or power washer), you're able to take advantage of their knowledge; the end result is a home that is cleaner than you ever thought it could be and in less time than you thought possible.
The service is customizable. Professional cleaning services are exceptionally flexible; you can hire them as often or as little as you'd like. Most charge by the hour or by the room, so you can have them focus on specific areas without breaking the bank; by communicating your cleaning priorities, you can ensure that your concerns are met during the visit.
Cleanliness matters, whether you notice it or not. You'd be amazed at the difference a spotless home can make in your day-to-day schedule. Rather than waste an entire weekend on your hands and knees scrubbing your life away, find a professional cleaning service today.