On August 12, 1981, IBM released its first personal computer. IBM was eager to get into the personal computer game, but they didn't realize quite how lucrative a field it would be. Their marketing guys estimated they'd sell 241,683 units in the first five years, though their executives thought that was a bit optimistic. Turns out those IBM guys aren't very good with numbers, they sold almost three million units in that span.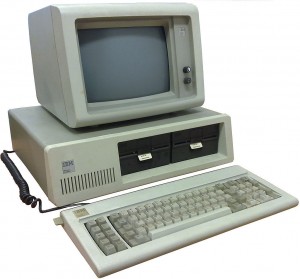 IBM had an image problem as they forayed into the world of personal computers: they were seen as a cold, emotionless big business. So they went searching for someone who could humanize their company. They settled on one of the most recognizable and beloved humans in cinema history: Charlie Chaplin. Playing off his 1936 film Modern Times, IBM billed itself as a "tool for modern times." The campaign was a hit and won numerous awards, despite at least one problem that you film buffs might be able to identify: The movie was designed to be a criticism of the growth of business and technology and the machine is actually the bad guy. But as evidenced by sales, that dichotomy doesn't seem to have stopped anyone.
Imagine what our life would be like today, at work or at play, without our computers, Ipads and phones.  We have come a long way since 1981.