The fall season begins on September 23, 2019 and ends with the entrance of winter on December 21.
There is nothing like that first brisk fall day when you can open the windows and enjoy some fresh air. After months of living in air conditioning, you feel more in tune with the surrounding area.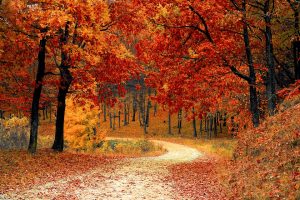 This is the time to get outside and enjoy a visit to a farm, pumpkin patch or farmer's market. There are a number of them in our area.
Here is a partial list with links to their websites:
Pumpkin Patches and More: http://www.pumpkinpatchesandmore.org/DEpumpkins.php
Delaware Agritourism Trail: https://www.visitwilmingtonde.com/blog/post/fall-fun-on-the-delaware-agritourism-trail/
Delmarva Life: http://www.delmarvalife.com/delmarvalife/maryland-delaware-pumpkin-patches-explore-2016/
Of course, cooking and baking in the fall can be not only delicious but lots of fun.
Here are links to some websites with great recipes:
Delish: https://www.delish.com/fall-recipes/
All Recipes: https://www.allrecipes.com/recipes/631/everyday-cooking/seasonal/fall/
Taste of Home: https://www.tasteofhome.com/holidays-celebrations/fall/fall-recipes/
Food Network: https://www.foodnetwork.com/topics/fall
Country Living: https://www.countryliving.com/food-drinks/g1921/easy-fall-recipes/
Don't forget the office. We spend most of our time there.
At Gemini Janitorial Services, we make offices shine.
Give us a call today at (302) 654-5310 for a complimentary assessment.