Americans spend most of their waking hours at work. While many businesses use a cleaning service, the actual cleaning performed is often minimal, with a quick vacuum and emptying of trash.
Deeper dirt, dust, allergens and pathogens remain in carpets, on blinds, and deep within the upholstery of office furniture.
Here are some valuable benefits to allowing the Gemini Janitorial Services Team to make your office shine:
Increased Employee Productivity
Your employees are happier when the workspace is fresh, clean and free from accumulated dust and dirt. The air smells better and is healthier to breathe.
While many businesses understand the need for ongoing employee training and recognize that a healthy company culture is important, very little thought may be paid to the most important factor in productivity – pure, clean air.
While it is well-established that polluted air is risk to human health, many business owners may not realize the significant impact of unhealthy indoor air. It is believed that dirty, unhealthy indoor air diminishes human cognitive function.
Want a team of bright, eager, productive employees? Help them breathe cleaner air. A regularly performed, deep, professional cleaning leaves your office air clean and fresh.
Reduced Spread of Disease & Fewer Sick Days
Most businesses struggle when a virus is spread from employee to employee. With many of your most valued team out of the office, production slows.
Even when employees are asked to remain at home when ill, many disregard this request, and then move through the office spreading the virus by contacting various surfaces, which are contacted by others, and so it goes.
A deep, professional cleaning is an important factor in keeping your workforce healthier and can help reduce the spread of the latest virus.
Viruses pose the risk of infecting others for up to 48 hours on a surface such as a desk, workstation or table.
Create a Safer, Healthier Work Environment
Employee health has become an issue of concern. Many businesses are interested in a more environmentally-friendly operation.
At Gemini Janitorial Services, we use safer, "green" products so that toxins do not linger in the air and the environment is not filled with perfumed cleaning products that can trigger a reaction in many people. If you want to provide a safe, healthy environment for your employees, clean, fresh air matters.
The air ducts in your business must be regularly cleaned to keep free from pathogens. The procedure used in duct cleaning can vary. To fully extract allergens, bacteria, dust, dirt, mold, and debris, a state-of-the-art, advanced extraction system should be used.
Employees carry allergens from home to work, including pet hair and dander, dust mite eggs, and other substances into the business. Frequent carpet and upholstery cleaning, along with standardized processes to fully remove dust and allergens from surfaces, goes a long way in keeping your employees functioning at their best.
Enjoy a Positive, Professional Appearance
Walking into a business that has stained carpet, dusty desks and trash overflowing with crumpled paper and takeout cartons creates a negative first impression.
However, walking into a business that looks pristine, smells fresh, and is obviously clean creates a positive impression.
The image you project to customers is an important factor in the success of your operation. A shoddy appearance creates the impression that your business performs shoddy work. A smart, clean, sanitary appearance, with air that smells fresh produces a subtle impact on customers, as well as a higher confidence that you can deliver your products and services effectively.
Good business "housekeeping" includes several critical steps.
Some of the more obvious are reducing clutter accumulating in stairways, halls and other walking areas. Keeping trash bins clean, rather than just replacing bags, along with effective dust and dirt removal performed daily.
Many areas must be thoroughly cleaned every day, while others will require periodical maintenance. The kitchen, coffee area or any space where food is consumed must be sanitized daily. The refrigerator should be cleaned and sanitized weekly. An office microwave or stove must be cleaned daily.

A Clean Office is a Morale Booster
Your employees respond to a cleaner environment and morale is higher. They feel that the activities you are engaged in are important, will take more pride in their accomplishments and dress in a more appropriate manner in a clean environment.
Happy, motivated employees help to elevate your brand. You will begin to attract the talent you need to make your business more successful.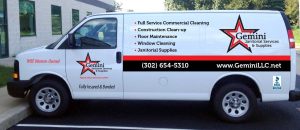 Contact us today at (302) 654-5310 to allow Team Gemini to make your office shine!